She did not appear alot in the series, as she is the deceased mother of
Alexander Volg Zangief
. She only appeared in some flashbacks from Volg in his matches, against
Ippo
and
Mike Elliot
.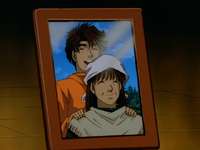 Volg's mother raised and grew all alone Volg, taking care of him until she ruined her own health. Volg became a boxer to help his mother stay alive with the help of
Ramuda Ruslan
his trainer, but after his loss against Ippo and
Sendou
he goes back to Russia but afterwards she passes away as we see later Volg infront of her grave. Volg makes a decision to continue his career to become a world champion, as he did by defeating Mike Elliot.
Ad blocker interference detected!
Wikia is a free-to-use site that makes money from advertising. We have a modified experience for viewers using ad blockers

Wikia is not accessible if you've made further modifications. Remove the custom ad blocker rule(s) and the page will load as expected.