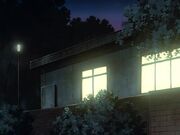 The training camp is Kamogawa Boxing Gym's annually organized training event.
The main purpose of the event is, while maintaining fighter's inner peace, to make him train harder. The place they stay at is called the Training Center: it is a boxing gym that has all the equipment a boxer/fighter will need, as well as an extra room for resting/sleeping.
There is a beach near the Training Center where members of the Kamogawa Boxing Gym (usually Tamura, Aoki and Kimura) spend their spare time.
List of Members Attended
Edit
Ad blocker interference detected!
Wikia is a free-to-use site that makes money from advertising. We have a modified experience for viewers using ad blockers

Wikia is not accessible if you've made further modifications. Remove the custom ad blocker rule(s) and the page will load as expected.