Ad blocker interference detected!
Wikia is a free-to-use site that makes money from advertising. We have a modified experience for viewers using ad blockers

Wikia is not accessible if you've made further modifications. Remove the custom ad blocker rule(s) and the page will load as expected.
The
Touyou College of Athletics
, is a physical education collage located in
Tokyo
Japan
.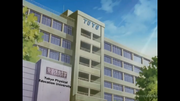 This is the place where "The Speed Star" Saeki Takuma practiced amateur boxing before becoming professional.
Inside the building, there is a particular speed training apparatus designed specifically for Saeki, which only he himself can handle.