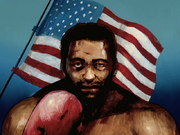 Thomas Hearns is a real life retired American Professional boxer. Nicknamed the "Motor City Cobra" and more famously "The Hitman", Hearns became the first boxer in history to win world titles in four divisions. He would also become the first fighter in history to win five world titles in five different divisions.
He has a successor, Richard Bison, who was the former WBA middleweight champion.
Even if Hajime no Ippo series are based in the 90s, which Thomas existed by years from real life, Mashiba Ryou has the same nickname "The Hitman" and uses Flicker Jabs.
Ad blocker interference detected!
Wikia is a free-to-use site that makes money from advertising. We have a modified experience for viewers using ad blockers

Wikia is not accessible if you've made further modifications. Remove the custom ad blocker rule(s) and the page will load as expected.