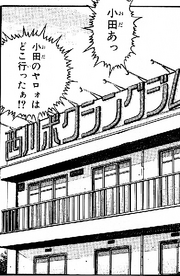 The Nishikawa Boxing Gym (西川ボクシングジム) is a boxing group located in Tokyo.
Nishikawa Boxing Gym has boxing equipment like the other gyms. The only known coach is Mikami. Oda Yusuke entered the gym for his boxing career. After his boxing career was over, Oda Yusuke started his coaching career at the same gym he trained. The owner of this place is unknown.
Ad blocker interference detected!
Wikia is a free-to-use site that makes money from advertising. We have a modified experience for viewers using ad blockers

Wikia is not accessible if you've made further modifications. Remove the custom ad blocker rule(s) and the page will load as expected.