Nagumo Ryuji (南雲流次 lit. ryuji nagumo) is a non-recurring character in Hajime No Ippo.
Background
Nagumo Ryuji is a World Ranked 10 Junior Featherweight Boxer, and he has an upcoming World title match. Not a lot is known about Nagumo.
History
Nagumo Ryuji vs Makunouchi Ippo Spar
Nagumo visit Kamogawa Boxing Gym to spar with Ippo. Both are ranked 10th in the World, but for different weight classes, where Nagumo is a Junior Featherweight, and Ippo for Featherweight. Kamogawa agreed to it since Ippo's returning to the ring soon and aiming higher than before. This spar will be an important touchstone to see if he is ready for the challenge or not. He also wanted to see how effect the new Dempsey Roll will be against a World Ranker.
The spar starts, but Ippo gets drilled by Nagumo jabs. Ippo can see them, but he is unable to dodge. (He wonders if he got the timing wrong.) Nagumo too fast, where Ippo realizes unless he can push inside, he won't get anywhere. Right as he starts to show signs of the new Dempsey Roll, he goes down.
When Kamogawa sees that he stops the spar. Fuji notes that the second Ippo started weaving the Dempsey Roll, Nagumo landed two jabs and Ippo was down. He shocked since Ippo's usually so tough too. Ippo gets up and is surprised he was down. Kamogawa realizes he wasn't a flash down, and Ippo's been hurt. Ippo praise Nagumo and mentions his lefts were realy hard to dodge, and wants to continue with the spar. But Kamogawa ends it, and tells Ippo to get out of the ring.
When Ippo sits down, he realizes his headgear is already hard to see how of, but when he starts to do the Dempsey Roll, its even easier to lose sight of his opponent when he is weaving since they get cover up by the padding. Ippo notes next time he spars, it will be with out headgear. Takamura mentions to Kamogawa that Ippo's previous spar (with Ninjima Boxing Gym's Matsuura in Round 1144), he had trouble dodging too. Takamura's been suspecting for a while now, where Ippo's broken.
Nagumo Ryuji vs Miyata Ichirō
For a Final Tuning before Nagumo's World Title match, he goes to Kawahara Boxing Gym to spar with Miyata. Nagumo's coach mentions that Miyata's a big deal, but only a World Ranker, that's nothing compared to a World Champion. When they arrive, there is a crowd there since they heard about his spar with Ippo. They think he has the best shot of anyone in Japan at taking a World Title.
Miyata doesn't want to wear any headgear for the spar, and Nagumo doesn't want to either. His coach starts to object because he has a World Title match, but Negumo mentions they could stop it if it gets too risky. Miyata Senior mentions to Miyata that Nagumo is not wearing headgear since Miyata provoked him. He tells Miyata that Nagumo's speed is a real threat.
Nagumo mentions that Miyata is one of the few younger fighters that he has respected and Miyata's weapons are all World Class. He think Miyata's the strongest person in Japan around his weightclass, where if he can handle him then I can be confident going into his World title match.
The spar starts and Miyata tries to land a counter but Nagumo slipped away and killed the impact. Nagumo starts to use his speed, and was able to counter Miyata. Miyata Senior notes that Nagumi favors his left. Nagumi throws a left again and Miyata looks to counter it. Miyata Senior stops the spar.
The reporters think Nagumo was able to push Miyata the whole time, and think Nagumo can take on the World. They ask Miyata for his impressions. Miyata says "He's strong. I'll admit that." Nagumo wanted to spar a little longer. His coach is happy and think if they can maintain the momentum then, Nagumo will win the World title in 3 weeks.
Miyata mentions that Nagumo's speed is a real threat, and his rhythm is hard to read. He doesn't think the World Champion will enjoy that fight.
Nagumo Ryuji vs Puerto Rican Champion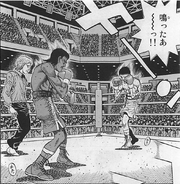 Ippo received a ticket to Nagumo's World Title match as a thank you for the spar. When he goes, he meets up with Miyata, who also received a ticket. When the match is about to spar, Miyata and Ippo are singled out and put on TV to help hype Nagumo's accomplishments.
Ippo mentions that he read in a magazine that Nagumo beat him in a spar too, and thinks they are alike. Miyata asks Ippo what happened in his spar. He wonders if Ippo seriously go down to "that", since it been bother him.
The fight begins. Nagumo uses his speed right from the start, and the World Champion can't keep up. Ippo notices the Champion is trying to do something, and wonders if he is trying to counter with a Right after Nagumo's two left. While the fight is going, Miyata is tapping out Nagumo's timing.
The Champion is getting use to Nagumo's punches and start to counter attack with punches, but Nagumo lands a counter punch on him instead. He lured him in, and then threw a sharp compact left hook. The Champion pushes in again not fearing the counter. The Champion attacks and Nagumo goes down.
Ippo wonders if Miyata held back during their spar. Miyata once again asks if Ippo really lost to Nagumo. Ippo mention he really did knock him down, where he couldn't keep up with his speed, and landed two solid lefts on him. Nagumo stands up and takes a fighting pose, and throws punches at the Champion, but Nagumo can't stand up to him gets hit instead. Nagumo ends up clinching to buy time. The ref breaks it up fast. Nagumo is able to land some lefts, but they don't effect the Champion.
Miyata mentions that it was clear as soon as they matched up that Nagumo might be unpredictable, but he's clearly not World Class. He had to stop himself from getting too into it. If he had fought seriously, he would have probably injured him and ruined his World title shots. So he held back instead. Miyata just couldn't believe Ippo could go down to "that". Ippo thinks that Nagumo has a chance, but Miyata tells Ippo didn't he learn from his last match that the World Stage isn't easy.
The Champion continues hitting Nagumo more and more. The Ref finally moves in and stops the match. Nagumo loses the match.
Match History
Appearance
Nagumo has a slim build, short dark hair, with pale skin. His forward bangs are short. He has a long straight nose and sharp eyes, whose brows are always slightly furrowed.
Boxing Abilities
Nagumo is an outboxer that has decent speed. He tends to favor the left jab. When a boxer closes in on him, he throws a counter.
Nagumo was able to match Miyata, who was holding back at the time, in speed and throw even counters. Meanwhile, when he fought Ippo, he threw a fast one-two that made Ippo groggy.
Gallery