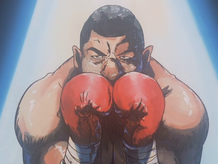 Mike Tyson is a former undisputed heavyweight champion and remains the youngest man ever to win the WBC, WBA and IBF world heavyweight titles. He won the WBC title at just 20 years, 4 months and 22 days old, after beating Trevor Berbick by a TKO in the second round. Throughout his career, Tyson became well-known for his ferocious and intimidating boxing style as well as his controversial behavior both inside and outside the ring.
He was the first ever heavyweight champion to hold the WBA, WBC and IBF titles simultaneously.
Makunouchi Ippo, the main character of the anime and manga, is said to be modeled after Mike Tyson. It was stated by Takamura in the manga that Mike Tyson was also bullied when he was still small and, even though he has the image of cold hearted man as an adult, when he was younger he had a kind heart. Whenever he was bullied he ran home crying to tend to his pigeons. When, one day, a pigeon that he was bringing up got killed, Tyson charged into the scene of the crime and went completely berserk. That was the first time he realized his dynamite punch.
Ad blocker interference detected!
Wikia is a free-to-use site that makes money from advertising. We have a modified experience for viewers using ad blockers

Wikia is not accessible if you've made further modifications. Remove the custom ad blocker rule(s) and the page will load as expected.