Ad blocker interference detected!
Wikia is a free-to-use site that makes money from advertising. We have a modified experience for viewers using ad blockers

Wikia is not accessible if you've made further modifications. Remove the custom ad blocker rule(s) and the page will load as expected.
This page is based entirely on user's opinions. If you feel any info is inaccurate, edit at your own risk. This page will not be moderated.

Ippo Makunouchi Stat Growth
Beginning of Story:
| | | | | | |
| --- | --- | --- | --- | --- | --- |
| Power | Stamina | Speed | Talent | Skill | Genius Stat |
| 13/20 | 5/20 | 4/20 | 20/20 | 1/20 | 0/1 |
Spar with Miyata (1st)
| | | | | | |
| --- | --- | --- | --- | --- | --- |
| Power | Stamina | Speed | Talent | Skill | Genius Stat |
| 15/20 | 8/20 | 6/20 | 20/20 | 2/20 | 0/1 |
Spar with Miyata (2nd)
| | | | | | |
| --- | --- | --- | --- | --- | --- |
| Power | Stamina | Speed | Talent | Skill | Genius Stat |
| 17/20 | 11/20 | 8/20 | 20/20 | 11/20 | 0/1 |
1st Match – Oda Yusuke
| | | | | | |
| --- | --- | --- | --- | --- | --- |
| Power | Stamina | Speed | Talent | Skill | Genius Stat |
| 18/20 | 13/20 | 10/20 | 20/20 | 11/20 | 0/1 |
2nd Match – Yoshio Fujiwara
| | | | | | |
| --- | --- | --- | --- | --- | --- |
| Power | Stamina | Speed | Talent | Skill | Genius Stat |
| 18/20 | 14/20 | 11/20 | 20/20 | 11/20 | 0/1 |
3rd Match, 1st Round of East Rookie King Tournament – Jason Ozuma
| | | | | | |
| --- | --- | --- | --- | --- | --- |
| Power | Stamina | Speed | Talent | Skill | Genius Stat |
| 18/20 | 15/20 | 13/20 | 20/20 | 12/20 | 0/1 |
4th Match, 2nd Round of East Rookie King Tournament – Kenta Kobashi
| | | | | | |
| --- | --- | --- | --- | --- | --- |
| Power | Stamina | Speed | Talent | Skill | Genius Stat |
| 18/20 | 16/20 | 15/20 | 20/20 | 13/20 | 0/1 |
5th Match, Semi-Final Round of East Rookie King Tournament – Ryuuichi Hayami
| | | | | | |
| --- | --- | --- | --- | --- | --- |
| Power | Stamina | Speed | Talent | Skill | Genius Stat |
| 19/20 | 17/20 | 15/20 | 20/20 | 13/20 | 0/1 |
6th Match Final Round of East Rookie King Tournament – Ryou Mashiba
| | | | | | |
| --- | --- | --- | --- | --- | --- |
| Power | Stamina | Speed | Talent | Skill | Genius Stat |
| 19/20 | 17/20 | 15/20 | 20/20 | 14/20 | 0/1 |
7th Match, All Japan Rookie King Match – Takeshi Sendou
| | | | | | |
| --- | --- | --- | --- | --- | --- |
| Power | Stamina | Speed | Talent | Skill | Genius Stat |
| 20/20 | 18/20 | 15/20 | 20/20 | 14/20 | 0/1 |
8th Match - Keigo Okita
| | | | | | |
| --- | --- | --- | --- | --- | --- |
| Power | Stamina | Speed | Talent | Skill | Genius Stat |
| 20/20 | 17/20 | 15/20 | 20/20 | 15/20 | 0/1 |
9th Match, Semi-Final Round of A-Class Tournament – Takuma Saeki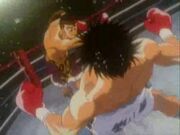 | | | | | | |
| --- | --- | --- | --- | --- | --- |
| Power | Stamina | Speed | Talent | Skill | Genius Stat |
| 20/20 | 16/20 | 14/20 | 20/20 | 15/20 | 0/1 |
10th Match, Final Round of A-Class Tournament – Alexander Volg Zangief
| | | | | | |
| --- | --- | --- | --- | --- | --- |
| Power | Stamina | Speed | Talent | Skill | Genius Stat |
| 20/20 | 18/20 | 15/20 | 20/20 | 16/20 | 0/1 |
11th Match, Japan Featherweight Title Match – Eiji Date
| | | | | | |
| --- | --- | --- | --- | --- | --- |
| Power | Stamina | Speed | Talent | Skill | Genius Stat |
| 20/20 | 18/20 | 16/20 | 20/20 | 16/20 | 0/1 |
12th Match – Ponchai Chuwantana
| | | | | | |
| --- | --- | --- | --- | --- | --- |
| Power | Stamina | Speed | Talent | Skill | Genius Stat |
| 20/20 | 18/20 | 17/20 | 20/20 | 17/20 | 0/1 |
13th Match, Japan Featherweight Title Match – Takeshi Sendou
| | | | | | |
| --- | --- | --- | --- | --- | --- |
| Power | Stamina | Speed | Talent | Skill | Genius Stat |
| 20/20 | 19/20 | 17/20 | 20/20 | 17/20 | 0/1 |
14th Match, 1st Title Defense – Kazuki Sanada
| | | | | | |
| --- | --- | --- | --- | --- | --- |
| Power | Stamina | Speed | Talent | Skill | Genius Stat |
| 20/20 | 19/20 | 17/20 | 20/20 | 17/20 | 0/1 |






15th Match, 2nd Title Defense –

Yamada

Naomichi
| | | | | | |
| --- | --- | --- | --- | --- | --- |
| Power | Stamina | Speed | Talent | Skill | Genius Stat |
| 20/20 | 19/20 | 17/20 | 20/20 | 17/20 | 0/1 |
16th Match, 3rd Title Defense – Yi Yonsu
| | | | | | |
| --- | --- | --- | --- | --- | --- |
| Power | Stamina | Speed | Talent | Skill | Genius Stat |
| 20/20 | 19/20 | 17/20 | 20/20 | 17/20 | 0/1 |
17th Match, 4th Title Defense – Iwao Shimabukuro
| | | | | | |
| --- | --- | --- | --- | --- | --- |
| Power | Stamina | Speed | Talent | Skill | Genius Stat |
| 20/20 | 20/20 | 17/20 | 20/20 | 17/20 | 0/1 |
18th Match, 5th Title Defense – Ryuuhei Sawamura
| | | | | | |
| --- | --- | --- | --- | --- | --- |
| Power | Stamina | Speed | Talent | Skill | Genius Stat |
| 20/20 | 20/20 | 18/20 | 20/20 | 18/20 | 0/1 |
19th Match, 6th Title Defense – Takuzou Karasawa
| | | | | | |
| --- | --- | --- | --- | --- | --- |
| Power | Stamina | Speed | Talent | Skill | Genius Stat |
| 20/20 | 20/20 | 19/20 | 20/20 | 19/20 | 0/1 |
20th Match, 7th Title Defense – Take Keiichi
| | | | | | |
| --- | --- | --- | --- | --- | --- |
| Power | Stamina | Speed | Talent | Skill | Genius Stat |
| 20/20 | 20/20 | 19/20 | 20/20 | 19/20 | 0/1 |
21st Match, Thailand Champion Match - Jimmy Sisphar
| | | | | | |
| --- | --- | --- | --- | --- | --- |
| Power | Stamina | Speed | Talent | Skill | Genius Stat |
| 20/20 | 20/20 | 19/20 | 20/20 | 19/20 | 0/1 |
22nd Match, Philippine Champion
Match -
Malcolm Gedo
| | | | | | |
| --- | --- | --- | --- | --- | --- |
| Power | Stamina | Speed | Talent | Skill | Genius Stat |
| 20/20 | 20/20 | 20/20 | 20/20 | 19/20 | 0/1 |
23rd Match, Indonesian Champion Match – Woli
| | | | | | |
| --- | --- | --- | --- | --- | --- |
| Power | Stamina | Speed | Talent | Skill | Genius Stat |
| 20/20 | 20/20 | 19/20 | 20/20 | 19/20 | 0/1 |
24th Match, Eighth Title Defense - Kojima Hisato
| | | | | | |
| --- | --- | --- | --- | --- | --- |
| Power | Stamina | Speed | Talent | Skill | Genius Stat |
| 20/20 | 20/20 | 20/20 | 20/20 | 20/20 | 0/1 |