Jason Ozuma


Biography
Gender:
Male
Birth Date:
September 11, 1970
Homeland:
America
Boxer Info
Weight Class:
Featherweight
Height:
171 cm (5'7")
Reach:
171.8 cm (67")
Style:
In Fighter
Stance:
Orthodox Stance
Current Affiliation:
Hachinohe Boxing Group
Previous Affiliation(s)
Hachinohe Kentou-kai
Previous Trainer(s)
Hachinohe Coach
Date(s) Retired:
1991
Boxing Record
Total Matches:
4
Wins:
3
Wins by KO:
3
Losses:
1
Draws
0
Championships:
None
Misc
Manga Debut:
N/A
Anime Debut:
Has Yet Appeared
Jason Ozuma (ジェイソン・尾妻 lit. jeison ozuma) is a non-recurring character in Hajime no Ippo.
Jason is a retired boxer who was affiliated with the Hachinohe boxing gym. He was known for his immensely powerful right hooks, intimidating appearance, but surprisingly kind and compassionate personality.
History
Jason is an African-American soldier stationed at the Misawa Air Base near Hachinohe, Aomori. As trained military personnel, he boasts an impressive body structure and is first seen in the weigh-in room with his coach. Ippo, who arrived shortly after, comments on Ozuma's intimidating height and appearance.
Later seen in the Rookie King Tournament match against Ippo, Ozuma proves to be a difficult and equally durable opponent. Unrelenting and fearsome, he is revealed to have an explosive hook equal to, if not more powerful than, Takamura Mamoru's. However, Ippo's fighting spirit and resolve eventually unnerved Ozuma, who believed that Ippo could not be hurt. After failing to land a finishing hook, Ippo retaliates with a damaging counterattack, causing Ozuma to lose his first match. Shortly after, it is revealed by Okita Keigo that Ozuma has retired due to spine damage from his match against Ippo.
Match History
| Result | Record | Opponent | Type | Rd., Time | Date | Location | Notes |
| --- | --- | --- | --- | --- | --- | --- | --- |
| LOSS |   3-1-0 | Makunouchi Ippo | KO | 2(4), 2:52 | 1991-06 | Tokyo, Japan | East Japan Rookie King Tournament Round 1 |
| WIN |   3-0-0 | Unknown | KO | ?(4) | 1991 | Tokyo, Japan | N/A |
| WIN |   2-0-0 | Unknown | KO | ?(4) | 199- | Tokyo, Japan | Match after Pro Debut  |
| WIN |   1-0-0 | Unknown | KO | ?(4) | 199- | Tokyo, Japan | Pro Debut |
Appearance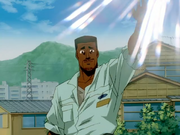 Towering in height compared to Ippo, Ozuma's appearance can prove to be incredibly intimidating. He has a dark skin tone and black hair. His hairstyle, as expected of a man from the military, is cut short and styled neatly to prevent any stray strands to fall in his line of vision. In addition to that, Ozuma also has a neatly trimmed stubble beard that wraps around his chin and mouth. His eyebrows are short and moderately thick. Ozuma's eyes are onyx in color.
Personality
Despite his fearsome height and overall appearance, Ozuma possesses a polite and outgoing personality. He is kind, compassionate, and charitable, stating that his reason for boxing is to earn money for his gym. He treats his coach and gym mates like his own family, supporting them and fighting for them with hardened resolve.
Fighting Style
Ozuma is an in fighter, most frequently fighting at close range to increase the precision of his immensely powerful hooks. His body, built expertly for an in fighter, has the ability to withstand the punches of the (then still inexperienced, but still powerful) esteemed hard-puncher Ippo.
Notable Techniques
Weaknesses
When he throws his signature hook, his body opens up, leaving him very vulnerable to body blows and counterattacks.
Trivia
He is the first African-American character to appear in the series, as well as Ippo's first foreign opponent.
Based on the Japanese Wiki, Jason's fighting style was modeled after Yoshino Hiroyuki.
Gallery