Ad blocker interference detected!
Wikia is a free-to-use site that makes money from advertising. We have a modified experience for viewers using ad blockers

Wikia is not accessible if you've made further modifications. Remove the custom ad blocker rule(s) and the page will load as expected.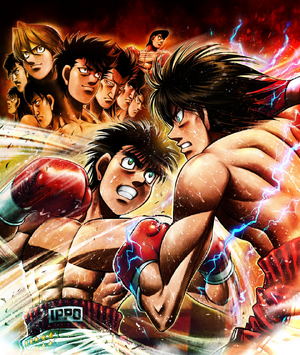 Hajime no Ippo: The Fighting is a video game that was released for the PS3 video game console in Japan on December 11, 2014, as part of the manga's 25th anniversary celebration. The news was first announced at the end of Round 1071.[citation needed]
The game is a third-person fighting game following the Hajime no Ippo story. In the Japanese gameplay trailer the newest character shown is Sawamura Ryuuhei, which indicates the story may cover up to Volume 55, though it also hints at a Mashiba vs. Sawamura match from Volume 72-74. It features a "Best Match Mode" which enables alternate timelines; if Ippo defeats Date Eiji in this mode, he can become the champion sooner and challenge other boxers than he would have in the manga. Other non-canon matches include Miyata vs. Itagaki and Sawamura vs. Sendou. The trailer shows Ippo skipping his match with Ponchai Chuwatana in Best Match Mode, suggesting that certain characters will not appear despite the storyline requiring them.
Between matches are fully colored cutscenes drawn in the Hajime no Ippo style and told through voice acting, but the images are mostly still (though they feature minimal animation), making the cutscenes look like pages from a manga. The Japanese voice actors from Rising have all reprised their roles in the trailer.
Characters and voice cast
Edit
Playable characters
Edit
Sunday Punch: All In Straight, All In Combination, Hit the Post, Liver Blow
Finish Blow: LVL1 - Uppercut; LVL2 - Gazelle Punch; LVL 3 - Dempsey Roll
Maximum Finish Blow: LVL1 - Jofre Uppercut; LVL2 - Gazelle Dempsey; LVL3 - New Dempsey Roll
Sunday Punch: Serious Hook, Total Body Blow, Megaton Hammer, Bringin' the Victory, Beast Punch, Bomb Body Blow
Finish Blow: Ore-sama Style Dynamite Punch
Maximum Finish Blow: Wild Side Breaks Loose
Sunday Punch: Double Punch, Left-Right Double Punch, Right-Left-Right-Left-Right Double Punch
Finish Blow: Frog Punch
Maximum Finish Blow: Look Away Frog Punch
Finish Blow: Dragon Fish Blow
Maximum Finish Blow: New Dragon Fish Blow
Sunday Punch: Yama Arashi
Finish Blow: Hedgehog
Maximum Finish Blow: Hayabusa
Sunday Punch: Avenger
Finish Blow: Jolt Blow
Maximum Finish Blow: Jolt Counter
Sunday Punch: Chopping Right, Finishing Headbutt, Dark Hospital Trip, Glimpse of Hell
Finish Blow: Flicker Hell
Maximum Finish Blow: Reaper's Scythe
Sunday Punch: Smash, Super Smash, Back Sway Smash, Smash Combo, Smash Rush
Finish Blow: Tiger Smash
Maximum Finish Blow: Finishing Smash
Sunday Punch: Screw Blow, Reversal Left, Fist for Glory
Finish Blow: Corkscrew Blow
Maximum Finish Blow: Heart Break Shot
Finish Blow: Accel Shot
Maximum Finish Blow: Full Throttle Shot
Sunday Punch: Wolf Fang, Dash Fang, Chase Fang, Avalanche
Finish Blow: White Fang
Maximum Finish Blow: White Fang Rush
Sunday Punch: Mano Voltise, Estomago Romper
Finish Blow: Nole Perdono
Maximum Finish Blow: Hasta Luego
Sunday Punch: Pierce, Crush, Tremble, Destroy
Finish Blow: Gowan no Gofuru
Maximum Finish Blow: Kiha Mijin
Sunday Punch: Rumble Combination
Finish Blow: Murder License
Maximum Finish Blow: Violence Massacre
Sunday Punch: Strike Down, Out of Reach, Black Down
Finish Blow: Stable One Two
Maximum Finish Blow: Spirit One Two
Sunday Punch: Nicho Gun, Crucifixtion, Flash, One Flash, Jaw, Taste the Offering
Finish Blow: Dragon Bite
Maximum Finish Blow: Hiryuu
Sunday Punch: Baby One Two Straight
Finish Blow: Golden One Two
Maximum Finish Blow: Greatest One two
Sunday Punch: Surprise upper, Wlecome Upper
Finish Blow: Magician's Choice
Maximum Finish Blow: In Position Magic
Sunday Punch: Destruction Body, Eclipse Blow, Natural Tricky
Finish Blow: Switch Smite
Maximum Finish Blow: Switch Smite
Sunday Punch: Smash, Bird Strike, Wootan Rise
Finish Blow: Rainbows Call
Maximum Finish Blow: Rainbows Call
Sunday Punch: Long Hook
Finish Blow: Ira Pegar
Maximum Finish Blow: Riama Pegar
Japanese Trailers
Edit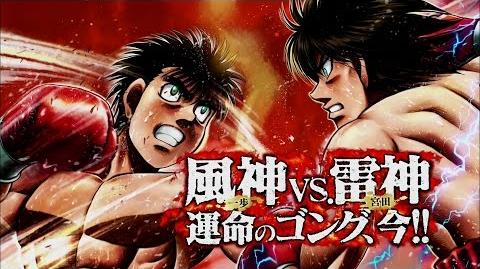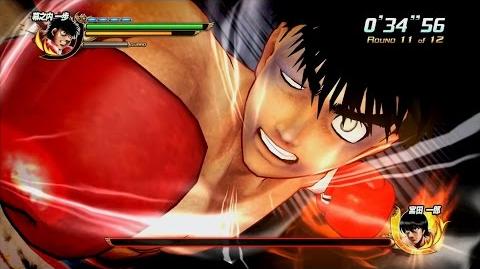 Other Information
Edit