Ad blocker interference detected!
Wikia is a free-to-use site that makes money from advertising. We have a modified experience for viewers using ad blockers

Wikia is not accessible if you've made further modifications. Remove the custom ad blocker rule(s) and the page will load as expected.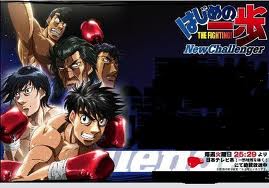 Hajime no Ippo: New Challenger
is the second television anime based on
Hajime no Ippo
, produced 5 years after the
first anime
concluded.
It debuted on January 6th, 2009 at 25:29 on Nippon Television and ran until June 30.
The new series went into development due to the high ratings of the reruns of the first series. The main cast from the first series returned, although Mashiba Kumi is now voiced by actress Hirata Yuka rather than Kobayashi Sanae. In addition, an almost entirely new production staff is used.
The story resumes from where the first series ended, with the Miyata Ichirou vs. Arnie Gregory story arc. The series also covered Date Eiji's rematch with Ricardo Martinez, Ippo's fight against former kouhai Yamada Naomichi (Hammer Nao), Itagaki's debut match against Makino Fumito, and Takamura's Jr Middleweight championship match against Bryan Hawk.
According to Koyama Rikiya, the voice of Takamura, a sequel is already being planned.
Main cast
Edit
Main Article: List of seiyuu
List of Episodes
Edit
Theme songs
Edit
Opening Theme
Edit
Ending Theme
Edit
Information
Edit
Official Website: http://www.ntv.co.jp/ippo/newchallenger/index.html