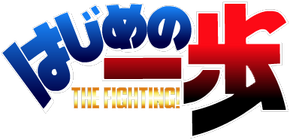 Hajime no Ippo
(はじめの一歩), also known as
Hajime no Ippo: The Fighting
and
Fighting Spirit
, is a
manga
series created by
Morikawa Jouji
. It began serialization in
Kodansha
's
Weekly Shonen Magazine
in 1989 and is currently still running.
The title literally means The First Step, but it is also a pun on main character Ippo's name (hajime meaning "beginning" or "first" and Ippo meaning "one step").
Hajime no Ippo follows the story of Ippo Makunouchi's rise to fame as a pro boxer. In addition to Ippo, the fights of many of his friends and rivals are also depicted. The flagship series of Weekly Shonen Magazine, Hajime no Ippo has sold over 94,000,000 copies as of 2013.[citation needed] Each chapter of the series is marked as Round (Round 1, Round 2, etc). In 1991, Morikawa won the 15th Kodansha Manga Award for Shonen Manga.
Weekly Shonen Magazine published the 1000th chapter of Hajime no Ippo in its Issue 1-2013. Other mangakas such as Aoyama Gosho-sensei of Detective Conan, Takehiki-Inoue of Slam Dunk, Kentaro Miura of Berserk, Takahashi Rumiko-sensei of Ranma 1/2 and Inuyasha gave their greetings. As of 2013, Hajime no Ippo has been collected into 105 volumes. It has surpassed Koutarou Makaritooru (ended at 51 volumes) as the longest running series in Shonen Magazine history, and is the 2nd longest running sports manga still being serialized (the first is Abu-san, which has been in serialization since 1973).
Anime Episodes
Edit
Main Article: List of Hajime no Ippo episodes
Manga Chapters
Edit
Main Article: List of Hajime no Ippo chapters
The Naniwa Tiger Gaiden
Edit
Main Article: The Naniwa Tiger: Hajime no Ippo Side Story
Characters
Edit
Main Article: List of Hajime no Ippo characters