Fujii Minoru (藤井 稔) is a sports journalist, who works for the Monthly Boxing Fan.
A veteran reporter with a keen eye for potential, Fujii is constantly following with his partners the careers of many Japanese boxers. While most other reporters cover only the most important events, Fujii is known to closely report on relatively unknown, upcoming boxers who are considered underdogs.
Background
Fujii was an amateur boxer together with Shinoda Tomoyuki in their youths. Although Fujii decided to become a sport journalist instead of a pro boxer.
History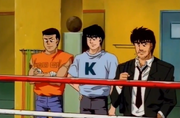 Fujii, along with
his partner
goes to the
Kamogawa Boxing Gym
and witnessed the second spar between
Makunouchi Ippo
and
Miyata Ichirou
. At first, he didn't believe in Ippo, just watching the spar for the
prodigy
, Miyata. After the spar, Fujii is surprised at the outcome, he quickly gains interest in Ippo. At
Kourakuen Hall
, Fujii introduced Ippo and Miyata to
Mashiba Ryou
.
After not only Ippo and Miyata, but also Masiba (who the public had high expectations for) become professional boxers, Fujii covers the Rookie King Tournament where the trio will be participating along with prodigy Hayami Ryuichi. He gives more attention to Ippo than the other reporters because he already knew Ippo's potential.
He used to be accompanied on assignments by a younger reporter, but sometime before Ippo's second match against Sendou Takeshi he gained a new partner.
Appearance
Fujii has black eyes, spiky dark brown hair, a thin moustache that later grows into a fuller moustache, and a stubble. His attire is usually a black or brown business suit.
Personality
Fujii is one of the most knowledgeable and intuitive; been able to predict events or figure out techniques before most. He also has many connections within most local gyms, as he frequently visits the members in order to gather and share information. In addition to Ippo, he also seems to be friends with Takamura Mamoru and Date Eiji.
Quotes
"You could sell tickets to a matchup like this!" -Signature quote, often says it during spars.
Trivia
A seldom-noticed running gag of the series is Fujii's constant attempts to quit smoking. He changes between cigarettes and nicotine replacement tubes regularly.