A boxer-puncher is a type of fighting style that falls under the catagory of Hybrid and involves boxers with good boxing sense and above average physical ability.
Boxer-puncher
Edit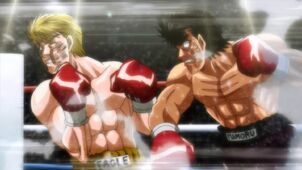 A boxer-puncher is a well-rounded boxer who is able to fight at close range with a combination of technique and power, often with the ability to knock opponents out with a combination and in some instances a single shot. Their movement and tactics are similar to that of an out-fighter (although they are generally not as mobile as an out-fighter), but instead of winning by decision, they tend to wear their opponents down using combinations and then move in to score the knockout. A boxer must be well rounded to be effective using this style.
Known Boxer-Puchers
Edit
Takamura
Volg Zangief
Ricardo Martinez
Ad blocker interference detected!
Wikia is a free-to-use site that makes money from advertising. We have a modified experience for viewers using ad blockers

Wikia is not accessible if you've made further modifications. Remove the custom ad blocker rule(s) and the page will load as expected.