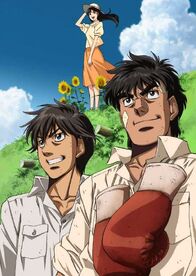 The Hajime no Ippo: Rising anime series ends with a special 4-episode spin-off called After the War Arc. This arc features Ippo's coach, Genji Kamogawa and his rival, Ginpanchi Nekota in their younger years.
The story takes place in post-World War II Tokyo, Japan, Kamogawa and Nekota fight as boxers, but two encounters alter their destinies. One is with an American boxer, and the other is with the beautiful woman Yuki.
Directed by Satoshi Nishimura, the director of the first Hajime no Ippo animes, these four episodes will be produced as a tribute to voice actor Kenji Utsumi and his Genji Kamogawa role. He passed away last year. Starting from the 22nd episode of the third season.
List of Episodes/Continuing Rising
Edit
Manga/Anime Differences
Edit
In the manga, this arc was right after the match of Takamura against Bryan Hawk. But instead, in the third season of the anime, they made it after Takamura's second Title match, against David Eagle. And also the four latest episodes of the season.
Information
Edit
Ad blocker interference detected!
Wikia is a free-to-use site that makes money from advertising. We have a modified experience for viewers using ad blockers

Wikia is not accessible if you've made further modifications. Remove the custom ad blocker rule(s) and the page will load as expected.